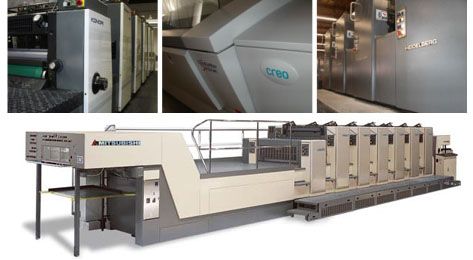 We utilize the most current technology in our industry. Our state-of-the-art
equipment allows us to provide our clients with high-quality products faster and less-expensively than our competition.
We realize that most people could care less about what models of equipment
we use, so long as they receive what they ordered. Still, we can't help being
proud of our toys. Once you see how great they make you look, we hope you'll
be proud of them, too.
Prepress
COMPUTERS

5 Units Apple Macintosh Power PC G4 1-1.2 Ghz Dual Processor
(Running both Mac OS X and 9).

1 Unit Dell PC 1.8 Ghz Pentium 4

1 Unit Dell/Creo CPT Server 1.3 Ghz Pentium 3

Microtek Scanmaker X12

PROOFING

Epson Stylus PRO 9600 Digital Color Printer
(Creo-Integris 400 Digital Interface)

IRIS 43Wide Digital Color Proofer
(Brisque Interface)

COMPUTER TO PLATE

Creo Trendsetter Quantum Platesetter
(Creo Spectrum Digital Matchprint)
(Capable of Conventional and Staccato
Screening)

MT 850-X Plate Processor

Acuprint uses the Prinergy System, Preps Imposition software and employs the latest staccato (stochastic) printing technology. We accept all forms of media including zip, cd-rom, ftp, and email.
Printing Presses:
Mitsubishi Diamond 3000 Six (6) Color Plus Coater 40" x 28"
Komori Lithron Five (5) Color Plus Coater 20" x 28"
Heidelberg Four (4) Color Perfecting Press 20" x 26"
Halm, Jet Two (2) Color High Speed Envelope Press
Ryobi Two (2) Color 14" x 20"
Ryobi (2) One (1) Color 14" x 20"
Finishing
Heidelberg Automatic Cylinder Die Cutter 21" x 31.5"
Heidelberg Automatic Cylinder Die Cutter 21" x 24"
Heidelberg Emboss Die Cutter 10" x 15"
Thompson Hand-Fed Die Cutter 28" x 41"
Stahl Folder w/ Right Angle 25"
Polar Programmable Cutter 31"
Mounter Mounting Machine 40"